"Coming together is a beginning. Keeping together is progress. Working together is success."
KISHORE
A seasoned professional with 17+ years of experience working with global McKinsey Consultants and Leading Domestic Clients as well. His passion for designing exceptional presentations is well recognized and valued by the clients he serves. Kishore's team is actively engaged in creation of computer-based-data driven and conceptual business graphics since 2010 with Business Presentation Designing and Creative Design as core service verticals.
7 years of entrepreneurial experience in Business Presentation Designing, Relationship Management with Team Leading skills including 13 months of experience into HRM/Recruitment and job coordination. Core Market Research, Technical expertise in the latest software, Training, Creative Excellence, and Multitasking are some of his areas of expertise. He is a proven leader in training and motivating junior designers that can be seen clearly in the work done by them.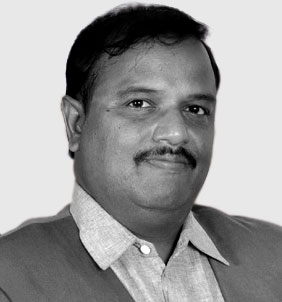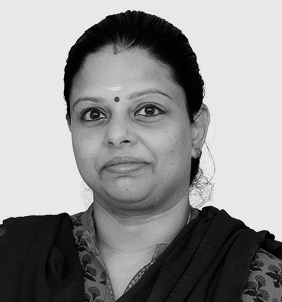 BHARATHI
Bharathi is a Senior Visual Aids Specialist with 17+ years of experience from McKinsey Global Services Chennai office. She was trained by the McKinsey Graphics Team from the London office. She joined the McKinsey Global Services Team supporting the London and Middle-East McKinsey offices in the year 2001 and went on to support them till 2009. After which her work expanded to support the German McKinsey offices as well till December 2018. She has designed several complex Business Presentations, Layout Enhancements, Message vs. layout enhancement of slides and proofreading complex text and data driven charts.
She has Trained several junior McKinsey designer colleagues to suit the client requirements. She was a dedicated support to several insider relevant studies for the London and Middle East McKinsey teams. She has further enhanced her speciality skill set to include Infographics which are the need of the day. Keeping up with the latest trends in the business graphics is her passion. Working with multiple accents with clients overseas is another area of her expertise.
MANIKANTAN
Creative Head – Visual Design Services Digital Marketing & Branding Consultant
Having over 13 years of collective experience across Financial & Banking Technology, Retail Management, Business Development & Corporate Planning, Photography, Video & Design, Visual Storytelling, Brand Building & Content Management, Digital & Social Media Marketing, Web and Data Analytic Reporting, Manikantan brings to table a huge amount of value addition with a 360 degree approach in providing creative solutions, which is highly appreciated by clients.
He has been consulting for Brands & Start-ups in Travel & Tourism, E-Commerce, Real Estate, Education & E-Learning, Healthcare, Finance & Banking, Wedding Events & Decor, and the Hospitality vertical spaces by providing Integrated Creative Digital Solutions, Strategizing Digital Marketing Channels for better brand visibility and outreach programs.